Our latest blog post in the series commissioned by Transition guru Paul Kean is from Naomi Toland.
Originally from Ireland, having taught in London for 3 years, Naomi has been a class teacher and Learning Support Coordinator as part of the SENCO team at Stonefields School in New Zealand for the past 3 years.
Naomi is also the founder of #empathetic_educators which is a youtube channel and a chat hosted every two weeks on a Sunday talking all things Neuroscience, Empathy, Relationships, Design thinking and Psychology. she tweets @naomi_toland
So here we are – it is the week of the 25th May 2020. I am writing this post from New Zealand and we have just had our first week back to school after 7 weeks off, including 2weeks 'holiday' (on lockdown in our houses with one hour exercise) and 5 weeks virtual learning.
I wanted to write this post to share our transition back into 'new normal' and reflect on the emotional & physical responses I felt personally as well as the responses of others in our community.
I am a Class Teacher and Learning Support Coordinator as part of the SENCO team @StonefieldsSchool. As part of my role for the rest of this term I will be working in a range of hubs across the school which is great because this has allowed me to see a variety of responses from our learners. From our Year 0s, who were having their very first day at school all the way up to our senior learners……
Announcement
For my own sanity, I am a person who doesn't watch the news very often so watching this with my house mates will go down in my history as a very significant point in time. On Monday 11th May 2020, our amazing Prime Minister announced that we would be moving into level 2 (meaning schools, restaurants, shops will open again).What will this mean for our kids? How do you get 4 year olds to social distance? Will all learners return? What will the dynamic at the school be? How are we suppose to socially distance in a hub of 50 + learners? Will sports happen? Will assemblies take place?These were all questions that were running through my mind and because I live with two other teachers were questions we discussed as Jacinda was briefing us on the roles that we would have to play if moving out of lockdown was going to be successful.
Many people from all over the world have commented on the leadership that our amazing Prime Minister has shown throughout this time and a big takeaway for me was the idea of responsibility and empathy. Every time she spoke to us she praised us for our actions – not only to help ourselves but more importantly to help others.
"But for all of that, Kiwis of all walks of life were resolute and determined, determined that this was a war we could eventually win but only if we acted together."
​
"You created a wall that meant the virus couldn't reach those people it could easily take."This is something that will stay with me, always. Because in a time of crisis or in a time of panic it can be very easy to rush into dictating and giving orders so that people adhere to the 'rules'. Of course rules are needed in some cases but my biggest takeaway from Jacinda Ardhern is that if you reach out to the humanity of people and show that our choices have an impact bigger than ourselves, it helps us to seek perspective and have a positive impact on those around us. So I wanted to bring this vision into the next steps of getting ready to return.
Preparation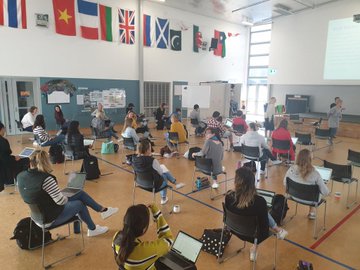 Schools were given a week to prepare for the reopening, so teachers at Stonefields came in for 2 days to decide on what our learning, environments and wellbeing approach would be.
As you can see from the images, flashbacks from my testing years came flooding back. But while sitting listening to our head teacher provoke us to think about what opportunities we can bring from virtual learning. It got me thinking about what does 'together' actually mean? – into or in one gathering, company, mass, place, or body: to call the people together.
– (of a single thing) into or in a condition of unity, compactness, or coherence: to squeeze a thing together; The argument does not hold together well.
– Slang. mentally and emotionally stable and well organised: a together person.Isolation, distance, self – isolate. These are a few of the terms have been used world wide and I believe our words can have a big impact on the wellbeing of many involved. When planning to come back, instead of thinking about how we would keep everyone away from each other, we started to think about ways be could bring everyone 'together' but in a safe capacity. Here are some of my reflections from the day:
– I could smell the lunch of one of my colleagues (yes it was tuna) but it got me thinking how could we use smells to create a shared experience?
– As a team we were asked to fill in a reflection form on our virtual experience and even though we were filling it in independently, in silence, we were putting our ideas together for a collective purpose. How could we use this to bring ideas 'together' and collaborate in lessons?
​
– Although we couldn't hug each other (as a very tactile person this was very difficult) it was our words, expressions and our actions that showed each other how much we had missed each other – How could we use this to create safe, welcoming environments for our learners?
Ways to bring people 'together'
For the remainder of this post I am going to share a few ways we brought our learners 'together':
1. Have fun!!!!
Yes of course be vigilant, yes of course make sure the learners are safe but this can be done in fun ways. We had a themed week where all staff dressed up in themes every day and got the learners guessing what the theme was. This was getting them in a shared experience but from a distance. Then we had Funky Friday where all the learners could come in dressed up and have a 'distance disco' so they were sharing in the music but not touching.
Of course this had to be monitored, especially in the juniors but overall the learners understood how their actions could have a positive or negative impact on those around them.
2. Kindness
As I mentioned before, New Zealand have been working together to 'Unite against Covid' so instead of teaching the learners what not to do which we predicted would result in lots of 'ewww miss she touched me' or 'I'm telling on you.' We decided our message as a school would be: Kind Hands, Kind Distance, Kind ActionsThis helped as a discussion starter with our learners and some hubs even got the learners creating games they could play in the playground that involved kind distancing eg shadow tag where instead of tagging the person you tag their shadow.
Now although there was lots of fun going on across the school with lots of learners excited to get back to see everyone, of course there were learners dotted across the school who may not have had a great lockdown or were nervous about coming back to school. This message enabled us to have great conversations with the learners, for example, those who were nervous about hygiene, with many seeing their peers take responsible action and this calmed them.
I also had other learners who were struggling adjusting being back based on their experiences at home and this was a great way to talk about tools they could use to be kind to themselves.
I must say I was expecting more learners to display different emotions and we are prepared for this to come out in a variety of ways over the next few weeks but some of the learners who were a little be anxious at the start of the week began to relax as they seen all the amazing wonderful joy around the school.
My big wondering from this week is, how does our messaging support learners to think positively while creating opportunities that allow them to be vulnerable?
3. Communication & Collaboration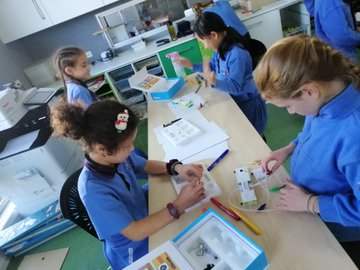 I just loved all the amazing lessons across the school creating opportunities for them to collaborate but think about how we do it for example we used coding and circuits to great morse code messages that they created for each other to solve. Learners were also learning sign language to be able to communicate from a distance, gaining empathy for learners who have to use this approach on a daily basis.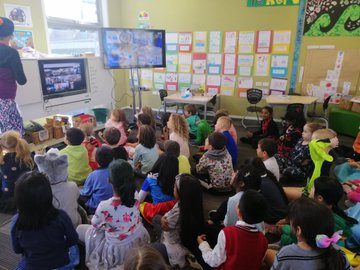 Then on the very last day we had a virtual assembly where all the learners were socially distanced in their hubs / classrooms but we were able to listen to the assembly and share the learning from a variety of the learners across the school. This was such an amazing way to bring some learning from our lockdown experience and use it to create new opportunities as a whole school.
---
What strategies have you found worked to support your community in the virtual world or in the physical world? How are you supporting yourself and your learners to remain positive and resilient but also have the ability to be vulnerable and have a voice?
I hope you have enjoyed hearing about our journey so far and I look forward to hearing how you are responding in your communities!
To continue to follow our journey, I am posting updates each week on my twitter account @naomi_toland
You can join the #empathetic_educators tribe as part of our twitter chat every two weeks on a Sunday to talk about all things 
Neuroscience. Empathy. Relationships. Design thinking. psYchology